We believe that the ingredients for a truly memorable dining experience include a dose of fun and a spoonful of creativity. Each year, we collaborate with students to host special events and themed dinners. Below are highlights from some of our favorites!
Moonlight Breakfast
To prepare for exams, you will need to hit the books—and the dining hall! The night before exams begin, we invite you to take a study break and fuel up with an annual favorite: the Moonlight Breakfast. This late-night event is sponsored by the Office of Student Life in partnership with Dining Services.
Diwali
The Festival of Lights is celebrated @ccDining with decorations and an abundance of authentic foods: Housemade Nan Bread, Housemade Paneer, Dal, Chicken Tikka Masala, Roast Leg of Lamb with Cumin Scented Chutney, Basmati Rice Pilaf, and desserts including Kheer Rice Pudding and Galab Jamun.
"Thanksgiving"
This early "Friendsgiving" celebration typically takes place one week prior to the official celebration. Dinner includes all of the traditional touches, plus a bread display featuring rustic breads from a local artisan bakery, herbed butter & infused extra virgin olive oil.
Mardi Gras
Enjoy Fat Tuesday with favorites such as Gumbo, Po Boys, Dirty Rice, Jambalaya, Red Beans & Rice, Cajun Snapper…A wonderful change of pace!
Festivus
Taking its name from a well-known Seinfeld episode, Festivus is Connecticut College's annual non-denominational holiday party. We serve a special dinner in our main dining hall, Harris, and decorate for the holidays! Each residence house hosts its own Festivus party and the evening culminates with dessert and dancing in the College Center at Crozier-Williams, known as "Cro."
Halloween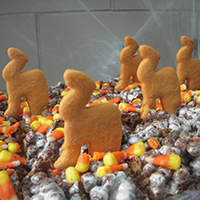 Don't be deterred by our spooktacular treats and decorations!
Taste of Harris
During this special lunch, we host a food show where vendors showcase new products for everyone to try! Students get to vote on their favorites and we select new items to serve based on their feedback.
Oktoberfest Luncheon
Breaking up a busy school day, come for the festive music..stay for the brats, sautéed red cabbage, pretzels with dark ale mustard, potato & beer soup, black forrest cake…and perhaps some Oktoberfest inspired toppings on our Neapolitan style pizza crust.
Senior Dinner
The Senior Dinner is a cooperative effort with the sophomore class. The sophomores select a theme for the annual festivities, and we plan the menu together. We begin with hors d'oeuvre stations, then segue to a formal, plated three-course dinner.
Eclipse Dinner
Eclipse is one of the longest-running student-produced events at Connecticut College. For over 40 years, students have been coming together to showcase their talents as a means of raising cultural awareness. Harris Dining Hall is taken over on Thursday night for a cast dinner and we create a special menu in coordination with Eclipse that is served to the entire campus.
Valentine's Day
Feel the love! On Valentine's Day, we create a menu of student favorites anchored by delectable desserts!
Lunar New Year
We offer a menu (starting with Seaweed Soup & finishing with Fresh Mango Pudding!) of traditional celebratory dishes from the many countries that celebrate this holiday. Celebratory dishes from China, Japan, South Korea, Vietnam & Malaysia have been represented. Eating dumplings, slurping noodles, and sipping tea grants many of us exposure to traditional cuisine, while international students get a taste of home.